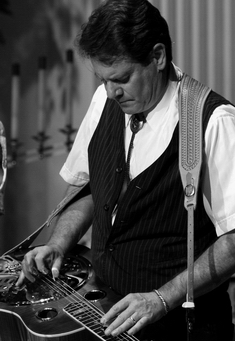 Will Jaffe, Dobro, Guitar,Banjo & Vocals, Band Leader/Founder
Will's mastery on stringed instruments has brought joy to audiences for near 50 years. Will has mastered many styles of music, including Blues, Country, Rock, Rock'n'Roll, Pop, Southern Rock, Swing, Jazz and Bluegrass. To further expand his knowledge of guitar, Will completed two years of Instrumental Performance at the renowned Berklee School of Music in Boston. He has performed as lead guitarist for several top bands touring New York State clubs in the 1970's and 1980's. He performed with the Cobleskill Jazz Band as opening act for the Duke Ellington Band. In the 1990's Will performed 200 shows a year, as band leader and guitarist with the Jaffe Band, a variety dance band performing a vast repertoire of diverse musical styles. Since 2000, Will has continuously performed with his band Blue Creek with a wide variety of genres on dobro, guitar & banjo.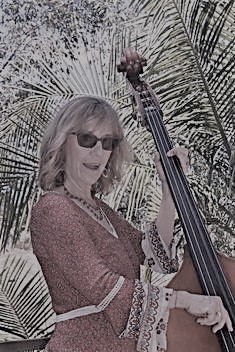 Susan Thoen, Bass & Vocals

A brief history, Susan grew up in Show business, the daughter of a gifted Jazz Musician. Her background is both rich and diverse. She has studied Classical music, reads, writes and uses these influences to bring out the best tones and tempo of every tune and genre played. Influenced early on, by the music of Mose Allison, and Ellington, then as a teenager the era of Hendrix and Clapton, these cemented rhythm and soul into her heart. As an adult, she studied with classical guitarist Ruben DeAnda, performed covers and her original songs and has recorded many of them in local studios in San Diego. She plays both electric bass, acoustic double bass as well as five string tenor Ukulele, autoharp and mandolin. Susan sings harmony and leads, and plays Bass with the Bluegrass group Blue Creek. Susan brings on the fun, joking with the crowd and making great music. Currently, Susan is wood shedding the great instrumentals of Bluegrass, and honing the Bass work for Blue Creek, and continues writing songs and stories of her early Days in San Diego's rich music heritage.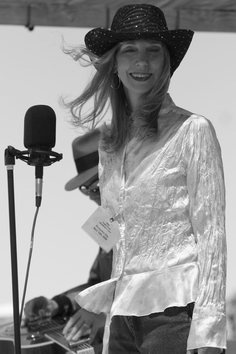 Sheila Jaffe, Lead Vocals, Percussion, Keyboards, Harp, Comedian, Founding Member
Sheila has been a professional musician for many years, first as keyboardist and singer in an all-girl band, The Candi Shoppe, who toured the US and Canada. While living in Seattle, she co-wrote an award-winning album entitled "Affinity", performed on synthesizer with the Seattle Symphony, and for Classic King FM Summer in the Parks series as well as several festivals. She also co-wrote and performed music for "The Floating Opera", which was commissioned by the Seattle Foundation for the Arts. She became interested in Celtic harp at that time, and studied with Mary Jean Lucchetti. She has recorded several albums on keyboards as well as harp. Sheila enjoys playing many styles of music and is delighted to be performing again with the Blue Creek Band.






Blue Creek Famed Musicians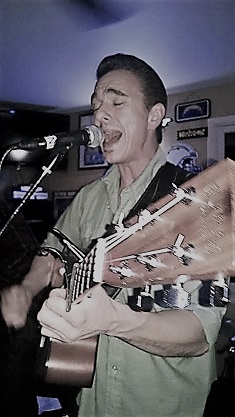 Grant Newton IV, Guitar & Vocals

Grant has enjoyed an immense following because of his strong, clear vocals and awesome guitar playing. Grant grew up in the Mid-West, hearing and then learning the music of America, Country, Southern Rock & Bluegrass. He has performed on many stages over the years and brought his skill as a Bluegrass musician to San Diego's audiences, with rave reviews. Grant is very excited about performing with the Blue Creek Band and is ready to rock it every day of the week.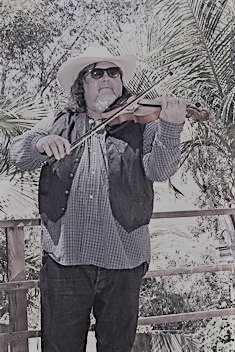 Paul Castellanos, Fiddle, Mandolin & Vocals

Fiddle / mandolin / banjo/ bass and most anything with strings. Paul's been playing fiddle and mandolin for over 30 years. Somewhere in that time he also picked up guitar, bass, banjo and keyboards. Paul's an accomplished song writer and arranger having played with 'The Chieftains', 'The Young Dubliners', 'Blended Spirits', 'Ken O' Mally', and regularly performed in LA's oldest Irish Pub Molly Malone's with 'Garrison White', and 'Glen Cornick'. He's also joined 'The Wolftones', 'Willy Clancy', Tommy Makem', and 'Billy Connelly'.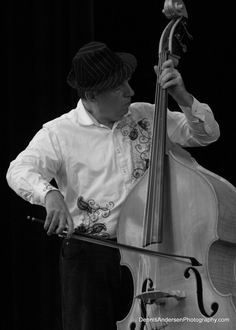 Lance Gucwa, Bass
Lance has a diverse musical background with much experience in classical, popular, and jazz styles. Years ago Lance caught the bluegrass bug, the melodies, picking styles, and harmonies captured him. His powerful, driving bass lines combined with tasteful infusing of classical and jazz influences creates the pulse and excitement that makes Blue Creek an experience of pure joy. Lance can also be seen playing local jams, as a fill-in for local jazz bands, a classical chamber ensemble, and also in the bass section of the La Jolla Symphony. Lance enjoys family life, small one-design sailboat racing, running, and hiking the peaks of California. He is having a blast playing great music with the Blue Creek Band.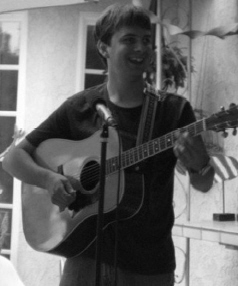 Alex Finazzo, Guitar & Vocals

Alex Finazzo's blazing guitar style is shaking up the foundation of blue grass music. His mastery of bluegrass guitar brings screams from adoring fans. First setting foot on stage with Les Preston when only 16 years old, he has since become one of Southern California's premiere flatpickers. Alex's resume has become jam-packed with appearances at some of California's oldest and most highly regarded Bluegrass Festivals (such as Summergrass, Huck Finn's Jubilee, Temecula Bluegrass Festival and Julian Bluegrass Festival), 5 live appearances on San Diego's #1 rated country FM station, opening for the IBMA award-winning IIIrd Tyme Out...the list goes on.
Alex brings a relaxed and refined style to music and the stage. He is thrilled to be part of Blue Creek's progressive style of acoustic music.