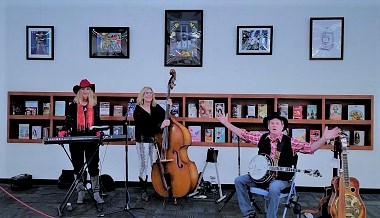 Blue Creek Trio 2021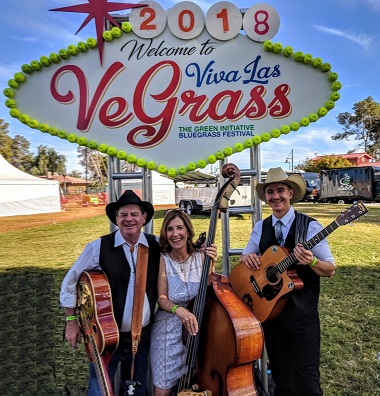 Blue Creek Band plays Vegas!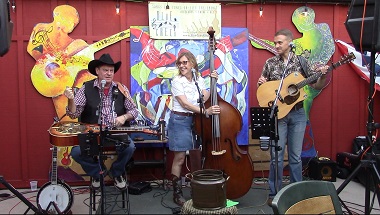 Blue Creek Band Trio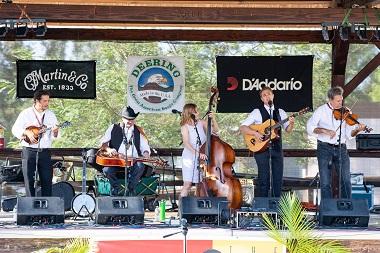 Performing at Summergrass Music Festival, 2018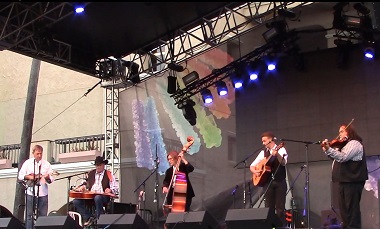 Performing at Del Mar Fair, 2018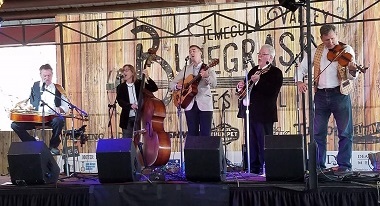 On stage at Temecula Bluegrass Festival, 2018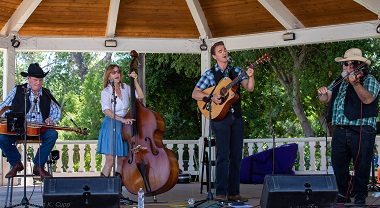 Performing at Sam Hinton Music Festival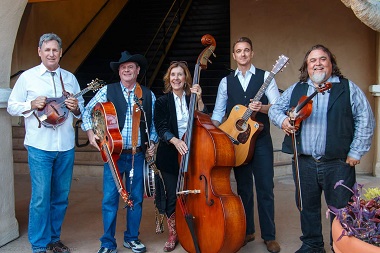 Before going on stage ...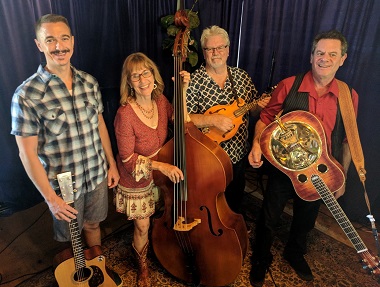 Grant Newton IV, Susan Thoen, Scott Crone & Will Jaffe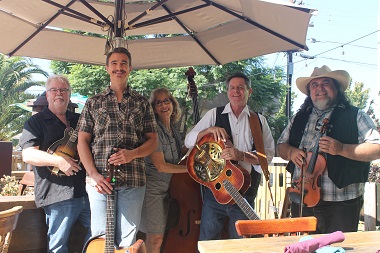 5 Piece Band - Scott, Grant, Susan, Will, Paul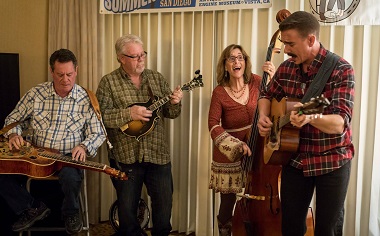 Show Case Performance at Great 48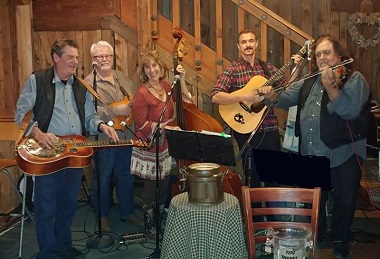 Performing at Red Barn in Julian CA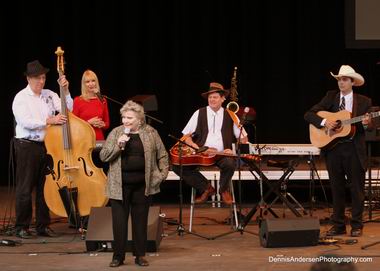 Grammy Award Winner Patti Page & Blue Creek at Moonlight Amphitheatre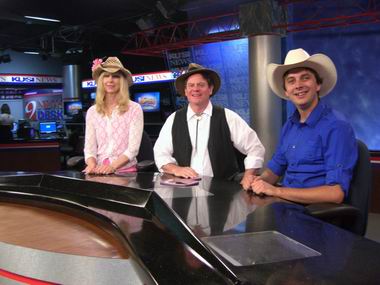 KUSI TV San Diego News Desk

Click to Watch Blue Creek Band Video

Click to Listen to Blue Creek Band

Blue Creek Band is a highly talented and energetic string band, performing many styles of music; Americana, Bluegrass, Swing, Pop, Gospel, Classics, Blues & more. Featuring exciting solos and strong vocals, they bring foot-tapping music that lifts the spirit.

From festival stage to live radio, television, concerts, clubs, parties, weddings & fairs, Blue Creek performances consistently draw in audiences. With instrumental prowess, vocal harmony and upbeat music, Blue Creek has made many friends and fans.

Their wonderful sound and enthusiasm will put a smile on your face and a song in your heart. If you'd like to discuss booking Blue Creek Band for your event please Contact us.
---
Blue Creek Band received this great testimonial about our performance at 2018 Summergrass Music Festival: Summergrass board of directors sends a hearty Thank You! for your great stage show on Friday. We received many compliments from our festival fans on your show. Bravo! And, thank you Will for your Fun Bluegrass Music Theory workshop. Nice job!

---
Blue Creek Band on KUSI TV Good Morning San Diego

Blue Creek Band appeared on KUSI TV Good Morning San Diego as part of a special promotion for the San Diego Botanical Garden Concert Series - Family Fun Night.
---
Blue Creek Performs with Patti Page
Blue Creek Band was thrilled to have performed The Tennesse Waltz with country legend Patti Page at the Moonlight Amphitheater in Vista.
Patti Page's biggest hit "The Tennessee Waltz", was #1 for thirteen weeks. We also performed with Broadway stars Eric Kunze, Gina Deluca and a 50+ piece choir as well as a set of our favorite Blue Creek songs and tunes. Click For Concert Poster
---
Blue Creek Performs Live on KSON-FM
"The Blue Creek Band sounded terrific on my radio program. They play with confidence, skill and a lot of enthusiasm which really draws listeners in. I'm anxious to have them back!" - Wayne Rice, KSON's Bluegrass Special
Blue Creek on KSON-FM Radio Part 1
Blue Creek on KSON-FM Radio Part 2

(May take 30 seconds for these files to load)
---
Live Album Released!
Blue Creek is proud to announce the independent release of our new CD, "Picking Live in California." Recorded during our performances in California, it captures the spontaneous musical energy of our live bluegrass shows. Copies are available at Blue Creek appearances and are priced at $15.00.
---
Click To Listen To Blue Creek:
Recordings are live performances. Please wait a moment while sound file loads ...
Free Born Man Live
Vocals, Dobro, Guitar, Fiddle, Bass
If Wishes Were Horses
Vocals, Guitar, Dobro, Fiddle, Bass
Endless Highway Live Demo
Vocals, Guitar, Dobro, Mandolin, Bass
Rueben's Train Live
Vocals, Dobro, Guitar, Keys
How Mountain Girls Can Love Live Demo
Vocals, Guitar, Dobro, Mandolin, Bass
When Angels Sing Live Demo
Vocals, Guitar, Dobro, Mandolin, Bass
Before Breakfast Live
Guitar, Dobro, Fiddle, Bass
Wayfaring Stranger Live
Vocals, Dobro, Guitar, Fiddle, Mandolin
Tennessee Waltz Live
Vocals, Dobro, Guitar, Mandolin, Bass
How Great Thou Art
Dobro
Hymn Of Ordinary Motion
Dobro